Chicago Translation and Interpretation Services
Chicago is known as the Windy City – and it's not wholly due to the brisk winds perpetually blowing off Lake Michigan. Rather, it was nicknamed as a result of copious "hot air" that blew from the mouths of its notoriously corrupt politicians in the late 1800s. These days, Chicago is America's third-most populated city and its Lake Michigan winds blow in a bevy of professionals that flock to Chicago for domestic and international business.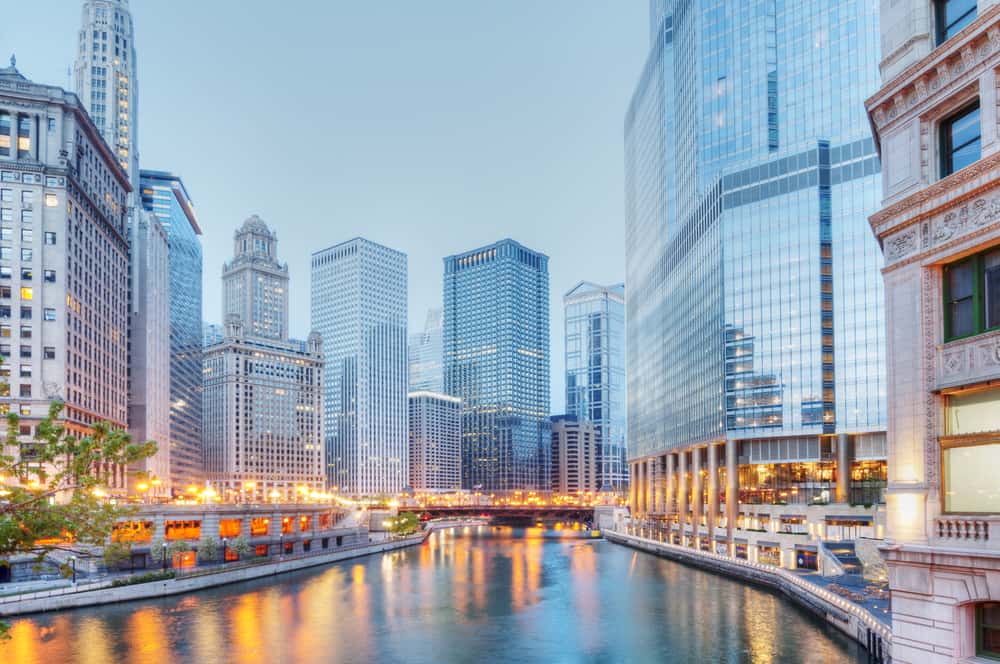 From its recognizable skylines to the Lake, Willis (formerly Sears) Tower, incredible jazz, the Chicago Institute of Art, the convenient El and a myriad of other attractions, Chicago is a wonderful place to conduct or host your business affairs. While you're there, you'll need an equally wonderful team of professional and conference-level interpreters to facilitate your company's relationships and brand development both at home and abroad.
Chang-Castillo and Associates (CCA) provides professional-level language solutions, all from native speakers, in Chicago and other global business centers. Our goal is to help your brand shine brighter than your competitors' and to show international clients that your company cares deeply about the way its message is presented and that it values relationships with both clients and prospects.
Contact the language solutions team at Chang-Castillo and Associates to learn more about our services and to discuss which ones are best suited for your upcoming conference or event. We look forward to showing you what professional-level translation and interpretation services truly mean.
We provide top-tier translation services you can trust
Trusting your brand's message, documents, language and proprietary information to outsiders is no small thing. To have them translated into a foreign language that you don't understand – and therefore have no way to verify if the translations "work" – requires the utmost trust. The professional translators at Chang-Castillo and Associates understand this leap of faith.
That's why we have implemented a multi-step translation process that guarantees documents, speeches, and presentations convey all of the information originally intended, using words and phrases that are culturally relevant to the client. The result is that your translated materials are 100% accurate and maintain cultural sensitivity while still speaking to global clients in your brand's unique voice and tone.
We can work with you to translate:
Government documents
Technical manuals
Training materials
Corporate communications
Marketing brochures
Presentations
Speeches, notes, and transcripts
Any other types of documentation
We'll introduce you to a CCA project manager, who will oversee the translation process and act as your go-between while facilitating the translation team's efforts so the project remains on schedule. This includes no less than three separate translation and editing phases, so the final product is presented without any errors, grammatical mistakes or formatting issues. We also provide rush services upon request.
Contact CCA to obtain a quote for document translation. Ask about our bundled language services packages – which include translation, interpretation, teleconferencing or equipment rentals, so you benefit from the most competitive pricing schedule.
Conference-level interpreters ensure your message lands with its original intent
Interpreting words can be very simple. Perhaps on a trip to a foreign country, you grab a language learner's dictionary and plod your way through choppy sentences. Shopkeepers delight at your attempts and always seem to know what you mean. While this is a fun way to play with language, it's not the way you want to play in foreign business. Even a well-meaning employee who is "fluent" in your target audience's language won't be able to work with that language at the professional level.
Therefore, CCA makes a point to only pair clients with conference-level interpreters who are native speakers in the target language. First, this ensures the interpretations are as accurate as possible. Business interpretation requires exceptional skill and experience because you are translating meaning, as well as the nuanced personality of the host, and you must do that with respect to your client's culture. In a nutshell, you need a language solutions provider like CCA.
Our conference-level interpreters are highly qualified. In addition to graduate-level degrees from accredited universities, they have hundreds of hours of experience in conference-level interpretation and hold certifications or memberships to international translation and interpretation-oriented organizations. The CCA team provides simultaneous interpreting services for larger conferences and presentations, and we offer consecutive interpreting for smaller events, social engagements or more intimate business meetings.
We work closely with your executives and management prior to and during the events, familiarizing ourselves with your company and its message in every way we can. The result is fluid interpretations that mirror your original meaning and intentions in a manner that is most accommodating to the target audiences culture and sensitivities.
Contact the team at CCA to learn more about our professional interpreting services in Chicago. Call us at +1 (877) 708-0005.
CCA is the platinum standard in worldwide language solutions in Chicago and abroad
In addition to professional translation and interpretation services in Chicago, CCA also offers teleconferencing and equipment rental.
Have a client or prospect who can't attend the planned conference or a regional presentation? Professional teleconferencing is the solution. Our innovative telephonic platform is compatible with your favorite presentation software, allowing more personal, "face-to-face" interactions with potential or current clients. Our team will stand by, providing translation and interpreting as needed, ensuring the teleconference is free from technical glitches.
We also have equipment rentals available, including headsets and receivers, interpreter consoles and fully-enclosed, soundproof booths. Our high-tech equipment ensures you are never left stranded in a sea of white noise or message-blocking interference. Conference level interpreters and tech assistants are part of our competitively-priced equipment rental packages and protect your interpretations from unnecessary technical issues.
Chang-Castillo and Associates takes great pride in what we do and our client testimonials prove it. Contact us online or give us a call at +1 (877) 708-0005 to start the conversation regarding your professional translation and interpreting needs in Chicago!