Atlanta Translation and Interpretation Services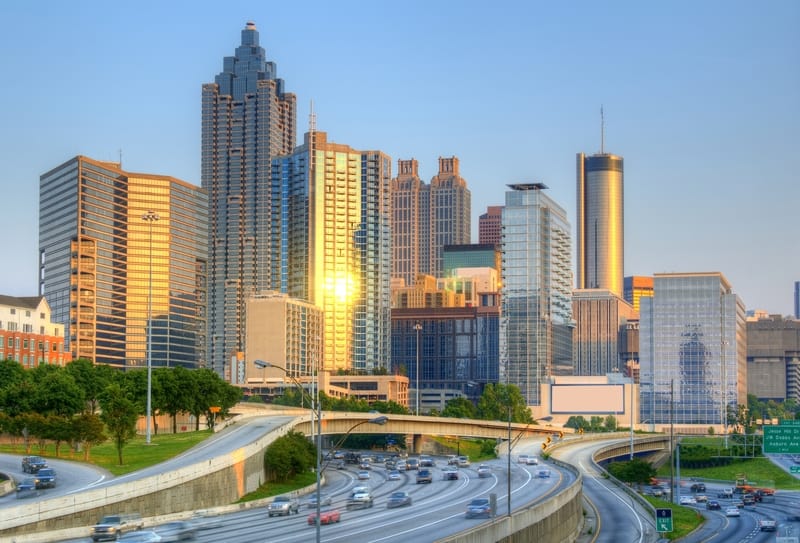 Atlanta is one of the American South's most beautiful and historic cities – known for its center-stage position in both the American civil war as well as the civil rights movement. It is home to 15 Fortune 500 companies, and its scenic cityscape, rich culture and in proximity to some of our nation's most interesting destinations (Coca Cola's headquarters, Disney World, Nashville, Graceland, and more) make it a convenient place to host your next multinational event, summit or tradeshow. However, the success of your multilingual event relies on your company's ability to transmit and receive high-quality interpretations and translations.
The accuracy, meaning, and nuance of your messages, not to mention the reputation of your brand or agency, hinges on your team of interpreters and translators. The team at Chang-Castillo and Associates (CCA) is unlike any other in the industry. We pair our love of language, culture, and communication with an unwavering commitment to our clients.
Whether you'll be hosting an event at one of Atlanta's famous venues, like the Georgia World Congress Center or the Atlanta Convention Center at Americasmart, or whether you're keeping things more intimate at the Renaissance Atlanta Midtown Hotel, CCA's team of interpreters and translators will assimilate with your executives and team members. The goal is to form a seamless unit that consistently promotes your brand and reputation for any target audience.
Contact Chang-Castillo and Associates to learn more about our platinum-standard language solutions offerings so we can put together a competitively priced package. We look forward to serving you in Atlanta or anywhere else your business takes you.
Conference interpreters with experience, professionalism, and heart
There is a big difference between court or community interpreters and conference-level interpreters. While both share a love of language, our conference interpreters are an elite class of their own. In addition to graduate degrees in conference interpreting from accredited universities, they provide their services at world class functions around the globe, including at events such as UN meetings, G-8/G-20 summits, the Olympic Games, and presidential and ministerial meetings. Don't trust your global reputation with interpreters who aren't up to the tasks required.
The professional interpreters at CCA can provide both simultaneous and consecutive interpretation. We are happy to serve you in the professional realm of a soundproof booth and sensitive business negotiations as we are to don casual clothes and provide consecutive interpretation services around gourmet dinner tables, walking tours in Atlanta or out on the golf course.
We provide native speakers so you can rest assured your audience is hearing accurate messages relayed in the correct dialect. In addition to graduate degrees, our conference interpreters:
Hold memberships with AIIC(International Association of Conference Interpreters) and/or TAALS (The American Association of Language Specialist), which are only available via a peer review process;
Have at least five years of professional, conference interpreting experience and proof of 200 or more hours of conference interpretation level work;
Are certified or accredited with one or more of the industry's most notable organizations such as the United Nations, the U.S. Department of State and the European Union.
Contact CCA to learn more about the high standards we guarantee from our interpreters. Join our roster of satisfied clients who say things like, "We are always pleased with [CCA's] consistent communication… [and] organized, detailed-oriented services that meet our international needs."
Professional translations before, during and after the event
The professional translation teams at CCA are available to facilitate translations before, during and after the event. To say we've adopted a detail-oriented approach to translations is an understatement. Each translation project is overseen by a dedicated project manager, who is also your direct contact through the duration of the project.
Every page of copy is translated and proofed three separate times – ensuring there are no mistakes or errors, that the copy reads naturally for the target audience without compromising your original tone, and that it is all beautifully formatted. Our translators are available for:
Government documents
Marketing brochures and materials
Speeches and transcripts
Technical manuals
Scripts for trainings, demos, and tours
Website and social media postings
Corporate communications
Subtitles
And more
We'll send you off to Atlanta with well-organized materials and specific notes (if relevant) for when/how your team should distribute them. We're also happy to meet you there and take care of everything for you.
Give us a call here at CCA: +1 (877) 708-0005. Or contact us online to plan translated materials for your upcoming Atlanta events.
Use high-quality interpreting equipment rentals you can count on
All too often, we get calls from international business professionals in distress because the venue- or event-provided interpreting equipment doesn't exist, or isn't working properly. This is a nightmare for anyone relying on professional interpreting services for international communication and relationship building. Don't become our next 9-1-1 caller.
Instead, take advantage of competitively priced, high-quality interpreting equipment rentals. Our equipment spans the gamut, including:
Microphones
Interpreter consoles
Portable transmitters for interpretation during tours or demos
Infrared (I.R.) emitters
FM equipment
Participant headsets and receivers
Read What equipment rental do you need to learn more about the interpreting equipment available to you.
CCA never leaves our clients in the lurch. All of our interpreting rental equipment comes with the support of a qualified conference technician and A/V support. It's the only way to ensure your interpreting services will move forward fluidly, professionally and without any embarrassing technical glitches.
Enhance your international alliances with teleconferences
Teleconferences are another innovative way to continue building international alliances. It doesn't matter who is missing from your Atlanta event, we'll connect you face-to-face via professional teleconferencing.
The innovative, telephonic platform we provide is compatible with the presentation software of your choice. It can be used in Atlanta to include global colleagues or prospects who aren't able to attend the event, or upon your return home in order to keep your personalized connections moving forward. We're happy to provide professional interpreting and translation services as needed anytime you're hosting a teleconference.
Contact Chang-Castillo and Associates and you'll learn why we're considered the platinum standard in language service solutions. Our team of professional linguists wants nothing more than to facilitate your brand's multinational rise to the top as we help you outshine the competition.